CEI Summit successfully held in Budva: Commitment

...
CEI Summit successfully held in Budva: Commitment to the CEI mission confirmed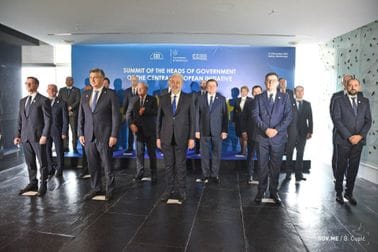 The Meeting of the Heads of Government of the CEI Member States, chaired by Prime Minister Zdravko Krivokapić, marked the final phase of the Montenegrin CEI Presidency.
The Prime Ministers reflected upon the state-of-play of the European integration process, on the importance of sustainable development and on the overall response to Covid 19, underlining indeed the relevance of multilateralism and solidarity through exchange of experience, joint actions and strategic partnerships for their effective tackling and the commitment of their countries to these concepts.
The Joint Statement endorsed at the Meeting expressed support to the European integration process and welcomed possibilities for cooperation initiatives further tackling the fields already on top of the CEI Agenda such as sustainable economies, climate awareness, connectivity building and just societies through promoting education, human rights, good health and well-being.
The CEI should continue to act through its well-established platform for political and inter-governmental dialogue, reinforced by parliamentary and economic dimensions, as well as by its multi-level and multistakeholder approach involving local actors and civil society and media.
The Joint Statement reiterated the importance of strategic partnerships and enhanced cooperation with the EU, UN and other relevant stakeholders and of their joint commitments to effectively tackle challenges that transcend national borders, thus restoring the political vision of multilateralism, confidence, stability and sustainable economic growth.