Key handover ceremony marks successful completion

...
Please note:
The page below represents the archived content relating to the previous Government of Montenegro. Some of the information might be inaccurate or outdated.
Archive
Key handover ceremony marks successful completion of Regional Housing Programme in Montenegro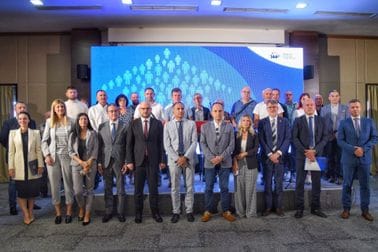 In the framework of the Regional Housing Programme (RHP), the construction of 28 individual houses across the territory of Montenegro has been successfully completed. A ceremony was held to hand over keys to the families who have resolved their housing issues through this programme.
Minister of Labour and Social Welfare Admir Adrović, Deputy Head of the European Union Delegation to Montenegro Riccardo Serri, Ambassador of the Republic of Turkey to Montenegro Bariş Kalkavan, Head of the Political-Economic Section at the U.S. Embassy Podgorica Scott Parrish, and Saša Čađenović, an official from UNHCR responsible for government relations, handed over the keys to the families.
Montenegro has shown solidarity and commitment to those who were forced to leave their homes due to conflicts in the region during the 1990s. Over 12,000 refugees from the former Yugoslavia have received permanent residency status, contributing to their successful integration into Montenegrin society.
With the support of international partners and donor countries, the governments of four partner states have decided to address the consequences of wartime events in the former Yugoslavia. The Regional Housing Programme, in addition to other subprojects, has provided permanent and sustainable housing solutions for over 1,000 families in Montenegro and the region.
The European Union is the largest donor to the Regional Housing Programme, which has provided new housing for these families. The programme, initiated in 2012, is set to conclude this year and will improve living conditions for approximately 11,300 vulnerable families in the region, including refugees and displaced persons.
The programme aims to resolve the protracted displacement crisis for the most vulnerable refugees and displaced individuals from the former Yugoslavia, including internally displaced persons in Montenegro since 1999. It is part of the "Sarajevo Process for Refugees and Displaced Persons," launched in 2005 to address the situation of those displaced after the conflicts in the former Yugoslavia from 1991 to 1995.