PM Krivokapić on the occasion of the fourth annive

...
PM Krivokapić on the occasion of the fourth anniversary of Montenegro's membership in NATO: Montenegro is a stable, reliable and committed member of the Alliance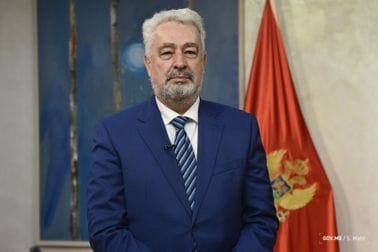 On the occasion of the fourth anniversary of NATO membership, Prime Minister Zdravko Krivokapić said that he is convinced that everything we do within our NATO agenda strengthens the position of Montenegro and facilitates its path to the European Union. We publish his address in its entirety.
"Dear citizens,
Today we are celebrating four years since Montenegro became the 29th member of NATO on 5 June 2017. Thus, one of the most important foreign policy priorities of Montenegro is fulfilled, which permanently secured its place in the Euro-Atlantic family of states.
The Government I lead, as well as the political parties that form the parliamentary majority, have already pledged at the beginning of their term to continue to strengthen our contribution to NATO, in order to show our unwavering commitment to the Alliance and our European aspirations.
I am convinced that everything we do within our NATO agenda strengthens the position of Montenegro and facilitates its path to the European Union, which is confirmed by the experience of some EU members. I see EU integration and NATO membership as "one and the same path" on which we strive for identical values – democracy, human rights, individual freedoms, the rule of law. Montenegro has opted for these values because they mean a better and high-quality life and the only guide to a brighter future for us and our children.
Montenegro is a stable, reliable and committed member of NATO. We actively participate in the implementation of NATO policies, with a desire to contribute to peace and stability in our region, Europe, but also globally. I want to emphasise that Montenegro continues its participation in the KFOR mission in Kosovo. Through our engagement, we seek to provide a safe environment and freedom of movement for all people in Kosovo, in accordance with United Nations Resolution 1244, which defines NATO's mandate. Representatives of our Armed Forces are also engaged within NATO's forward presence presence in Latvia, as part of the efforts to improve the security of the Euro-Atlantic area. After 10 years of successful participation, Montenegro ended its engagement in Afghanistan last year. We plan to send the first member of the Montenegrin Armed Forces to the NATO Mission in Iraq soon. This way, Montenegro contributes to global efforts to strengthen peace and stability. This is also an opportunity for our soldiers to improve their readiness and abilities, side by side with allies and partners, through joint activities and exercises.
During the COVID-19 pandemic, Montenegro felt the importance and strength of solidarity and unity in the right way. Many allies have supported us and donated the necessary medical care and equipment. One of the most valuable donations was made by NATO in the amount of 800,000 euros. Part of these funds will be used for the purchase of magnetic resonance and X-ray machine for the General Hospital in Berane, which will provide citizens in the north with faster and better medical care.

We are also grateful to the allies Italy and Greece who have been protecting our skies for the past three years, making Montenegro safer.
The fact that Montenegro is safe and stable is an important message for all our citizens, for those who intend to visit it, or invest here and start a business. All the efforts of the Government I represent are directed towards that goal. With the great efforts of everyone, we managed to bring the coronavirus situation under control and vaccinate a high percentage of the population. As we promised, we are well on our way to enabling a high-quality tourist season, and contributing to financial stability. I hope that all our efforts bring us closer to returning to normal life. A normal in which our energy and attention will be fully focused, not only on repairing the negative consequences, but on making new achievements and progress. We should all be united in that.

United as the people of Montenegro, but also as a region. United on the road to the European Union, and united in our efforts to reform our societies and systems and make them more efficient, prosperous and better. Montenegro, as a member of NATO and a future member of the European Union, is fully committed to meeting this goal. Today's anniversary of NATO membership reminds us that we are implementing reforms for the sake of a better life for our citizens, which should be the guiding idea in the continuation of our European path," the Prime Minister said.