Prime Minister with the Minister of Tourism of Sau

...
Prime Minister with the Minister of Tourism of Saudi Arabia: Strengthen bilateral cooperation with concrete projects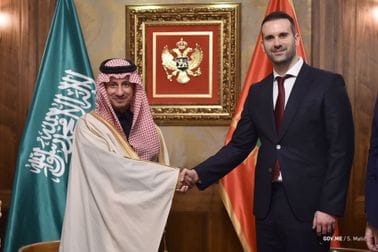 Prime Minister of Montenegro, Milojko Spajić, met today with the delegation of the Ministry of Tourism of the Kingdom of Saudi Arabia led by Minister Ahmed Al Khateeb.
The opening of the Montenegrin embassy in Riyadh will give a positive impulse to the strengthening of bilateral cooperation, and to that end, it is necessary to undertake the necessary activities as soon as possible, the interlocutors agreed.
Prime Minister Milojko Spajić presented the work program of the 44th Government to the Minister of Tourism of Saudi Arabia with an emphasis on tourism projects that could be a part of future cooperation between the two countries.
Minister Al Khateeb congratulated Prime Minister Spajić on the election of the Government and said that Saudi Arabia sees Montenegro as a friendly country. He extended an official invitation from Prince Mohammed bin Salman to the Prime Minister to visit Riyadh.
The bilateral agreement on cooperation in tourism provides a good basis that should be built on by concrete cooperation. In this context, Minister Al Khateeb invited Montenegro to submit proposals for infrastructure projects to their Development Fund. There is a mutual interest in stepping up communication in this sense, it was stated at the meeting.
The meeting was attended by the Minister of Tourism, Ecology, Sustainable Development and Development of the North, Vladimir Martinović, with whom it was agreed to form a joint commission between Montenegro and Saudi Arabia for the implementation of projects in the field of tourism.