Krivokapić, Holthoff-Pförtner: EU is not complete

...
Krivokapić, Holthoff-Pförtner: EU is not complete without Western Balkans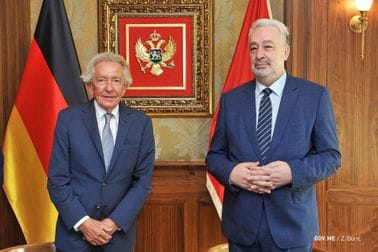 Prime Minister Zdravko Krivokapić met today in Villa Gorica with Minister for Federal, European and International Affairs of the State of North Rhine-Westphalia Stephan Holthoff-Pförtner.
PM Krivokapić noted the extraordinary bilateral relations characterised by intensive cooperation in all fields and at all levels, which is best evidenced by yesterday's meeting between the Prime Minister of Montenegro and German Chancellor Angela Merkel, who reiterated Germany's full support for Montenegro's European path.
The Prime Minister emphasised that the Government is fully committed to reform activities, noting a strong political will for an uncompromising institutional fight against corruption, organised crime and the rule of law reform.
Considering that for the first time in Montenegro's history, one government was ousted in a democratic way, we can say that, in the political sense, Montenegro was liberated. But we are aware that we are in a democratic transition and that democracy and pluralism have yet to truly take root in all segments and pores of our society. Montenegro needs justice, democracy and tolerance. Predecessors spoke of "coexistence", our goal is a step further - the diversity should pervade a true process of inclusion. That is why my wish and my decision was for the Government to be an expert one, a Government of experts, a Government of civic orientation. That was the need of all Montenegrin citizens, said Prime Minister Krivokapić.
Speaking about the latest events in Cetinje, with which the wider European public is familiar, the Prime Minister said that it was just another, illegitimate and extra-institutional attempt by opposition forces to destabilise Montenegro and slow down its progress towards the rule of law, the welfare state.
The intolerant approach imposed by the representatives of the former government aims to spill over into citizens and become a desirable model of destructive, anarchist behaviour. But the citizens recognise the motives and goals and outcomes of such behaviour, and I firmly believe that Montenegro will be a different, truly European state in a few years, Krivokapić said.
The Prime Minister pointed out that political and normative reforms must be accompanied by economic reform and revival, adding that Montenegro expects from Germany, as a strategic partner, new investments, especially in the areas of green economy and clean energy.
Minister Holthoff-Pförtner said that he fully understands the reform moment in which Montenegro finds itself, as well as all the problems that the expert government of Prime Minister Krivokapić is facing.
The path you have taken is arduous and long, but it is impressive that you are following it. Without the accession of the countries of the Western Balkans to the European Union, the EU is not complete either, said Stephan Holthoff-Pförtner.