PM Krivokapić meets with Parliament President Beči

...
PM Krivokapić meets with Parliament President Bečić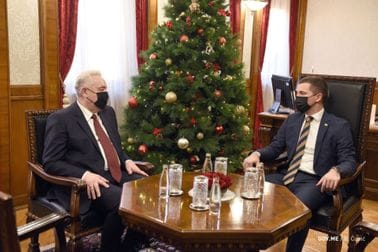 Prime Minister Zdravko Krivokapić paid a visit to the Parliament of Montenegro, where President of the Parliament Aleksa Bečić briefed him about achievements of the 27th convocation of the Parliament of Montenegro. During the tour of the entire building, the two officials jointly stated that the Montenegrin Parliament has been completely modernized and renewed, that its legislative, control and oversight role has been greatly strengthened, and that it is the most transparent parliament in the region, including EU member states, Slovenia and Croatia.
The President of the Parliament informed the Prime Minister about the introduced novelties, presenting modern equipment for livestreaming activities of parliamentary working bodies, as well as improved working conditions for media representatives and all those reporting from the Parliament.
President Bečić informed the Prime Minister about the fact that the Parliament of Montenegro adopted over 130 laws and other acts, and pointed out that the last session of the Parliament was historic in many ways, both in terms of the number of acts considered and their content, given that their adoption brought citizens some of the most beautiful New Year's gifts - from all workers and children, through mothers, beneficiaries of benefits for three or more children, to pensioners and former workers in the metal and mining sectors.

The two officials pointed out that the last session acquired historic significance given that it was decided to celebrate two more important dates in Montenegro from next year – 3 November, the day of Njegoš's birth, as a Montenegrin cultural holiday and 20 September, Ecology Day, to commemorate the same date in 1991 when Montenegro was declared the first ecological state in the world.
The President of the Parliament and the Prime Minister shared their satisfaction with the election of an independent and impartial Prosecutorial Council and concluded that a decisive fight against organised crime and corruption will now ensue.
The meeting assessed that reform projects await us next year, which will prioritize strengthening of the economy, raising living standards and preserving the will of the people, because the citizens clearly and unequivocally said "goodbye" to the devastation of Montenegro in the elections held on 30 August 2020.
Prime Minister Krivokapić informed the President of the Parliament about this year's results of the Government and stated that impressive results had been achieved in a short time. He said that, despite of all difficulties, the Government did everything to ensure financial stability and to improve the standard of living of Montenegrin citizens through reform programmes.
The two officials also used this opportunity to congratulate the citizens of Montenegro on the upcoming holidays, wishing them to spend the holidays in good health and good mood.