Vaccination with AstraZeneca vaccine begins
Vaccination with AstraZeneca vaccine begins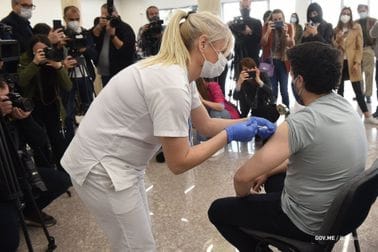 Deputy Prime Minister Dritan Abazović received the AstraZeneca vaccine today, which officially started the vaccination with the British vaccine. The Deputy Prime Minister said that he received the vaccine in order to affirm mass vaccination.
The only way to fight coronavirus is mass vaccination. We now have a vaccine and I urge citizens to get vaccinated. I hope that together we will defeat COVID-19, said the Deputy Prime Minister.
Abazović thanked everyone who fights against coronavirus, adding that vaccination is the least that citizens can do to repay medical workers who are fighting against coronavirus.
We all need to get vaccinated because that is the only way to preserve health and the economy. Montenegro will not be a desirable tourist destination if we do not get vaccinated, the Deputy Prime Minister emphasised.
Minister of Health Jelena Borovinić Bojović once again appealed to citizens to receive the coronavirus vaccine, stressing that every vaccine is effective and safe. She announced that additional doses of AstraZeneca vaccine are expected, as well as that additional doses of Sinopharm and Sputnik V vaccine will arrive.
Mass immunization should start around 20 April, when over 200,000 doses of Sinopharm vaccine, additional doses of AstraZeneca and Pfizer vaccine, as well as 50,000 agreed doses of Sputnik V are expected to arrive, the Minister of Health said and added that all vaccine will be available.
Minister Borovinić Bojović emphasised that we should all be aware that this is a global problem that can be solved only if we join forces.
Head of the Country Office at the World Health Organization in Montenegro Mina Brajović said that all available evidence indicates that AstraZeneca vaccine is safe.
All these months, the media have made an extraordinary contribution to the response to COVID-19 and I thank them for their great efforts to communicate our messages in an objective and timely manner, Dr. Brajović said and urged citizens to continue to respect epidemiological measures.
Director of the Primary Health Care Centre Podgorica Danilo Jokić said that the immunization process should be completed as soon as possible because that is one of the ways to stop the pandemic.
After receiving the vaccine, TV Prva journalist Anđela Šestović said that she was feeling well for now and that she had no dilemma whether to receive AstraZeneca.
We have been following the development of the vaccine since March and I did not have any dilemma. As a journalist, I am very well acquainted with all its qualities, said Šestović.