PM Krivokapić attends Her Majesty Queen Elizabeth

...
PM Krivokapić attends Her Majesty Queen Elizabeth II's birthday celebration in Bar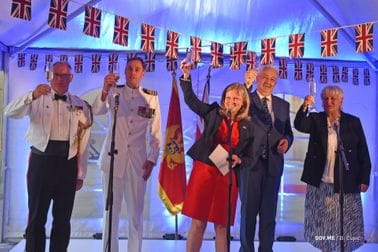 Prime Minister Zdravko Krivokapić attended tonight the celebration of the Queen Elizabeth II's 95th birthday, which was organised by the British Embassy in Bar. British Ambassador Karen Maddocks, Defence Attaché Lt. Col. Christopher Maycock, and CO Hugh Botterill of HMS Richmond welcomed guests from all walks of life: politicians, diplomacy, defence, NGOs, media.
In his welcome speech, Prime Minister Krivokapić said that this visit was proof of a lasting friendship. "Friendship is build from both sides. Montenegro, although a small country, has always wanted to be in the company of big ones, such as Great Britain," said PM Krivokapić.
In her speech, Ambassador Maddocks referred to the life and contribution of the recently deceased Duke of Edinburgh, the husband of Queen Elizabeth II. During the celebration, the Embassy exhibited several photographs taken during the visit of HRH Elizabeth II and the Duke of Edinburgh in 1972, to what was then Titograd.
"The reason for tonight's reception is the celebration of the rich relationship between the United Kingdom and Montenegro. Tonight, the most obvious aspect of our relationship is our defence partnership," said Ambassador Maddocks.
Baroness Goldie, Minister of State at the Ministry of Defence of the United Kingdom, who is visiting Montenegro, said that Montenegro is not only a friend of the United Kingdom, but also a NATO ally. "You'll be celebrating four years of membership this month. NATO is an alliance that continues to keep us all safe, and the United Kingdom is proud to be a leading European ally, standing shoulder to shoulder with other European allies, like Montenegro," she added.