Prime Minister Spajić talked to the Austrian Ambas

...
Prime Minister Spajić talked to the Austrian Ambassador Karl Müller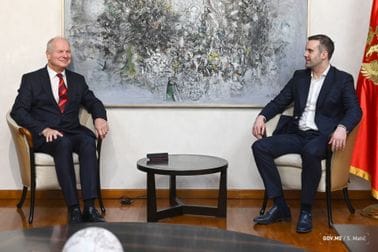 Austria has a special desire for Montenegro to complete its European path as soon as possible, in order to become a real EU integration role model, was the message of Austrian Ambassador Karl Müller during the meeting with Prime Minister Milojko Spajić.
Ambassador Müller is extremely satisfied with the beginning of the Government's work and the first steps, which demonstrate a clear commitment towards concrete results.
We felt a great relief, because of the good things that happened in the last two weeks. I think that the cooperation between the Government and the opposition is very important, and the approach you had regarding the census is much better and with less confrontation than it was until now. It would be good if the situation would be the same concerning other issues as well. I think that Montenegro has a great opportunity to make progress in the negotiations, the Austrian Government believes that your Government can do a good job on that path, said Müller.
Prime Minister Spajić considers bilateral relations with Austria extremely important. The same goes for the potential expert assistance from that country.
The results will show the Government's commitment to joining the European Union.
We have a large majority in the Parliament and now we are focused on important decisions, starting with voting on appointments in the judiciary, which is holding us back in negotiations with the EU. We immediately completed the work on the census, I believe that we defused tensions in society and reduced polarization, which is extremely important to us, Spajić said.