Krivokapić, Thimonier: The Western Balkans will be

...
Krivokapić, Thimonier: The Western Balkans will be the focus of the French presidency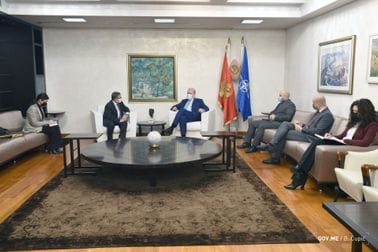 Prime Minister Zdravko Krivokapić met today with the Ambassador of France to Montenegro, Mr. Christian Thimonier.
Prime Minister Krivokapić informed Ambassador Thimonier about the activities carried out by the Government in the context of fulfilling the obligations in Chapters 23 and 24. The Prime Minister pointed out that Montenegro intends to meet the interim benchmarks during the French presidency of the European Union and turn them into the closing benchmarks.
Ambassador Thimonier thanked PM Krivokapić for the detailed elaboration of activities related to Chapters 23 and 24. The Ambassador pointed out that France sees its presidency as a form of giving incentives to EU candidate countries and that, thanks to the personal commitment of President Emmanuel Macron, the Western Balkans will be the focus of the French Presidency.
According to the distinguished Ambassador, France will insist on concrete steps in the process of joining the EU, and not on a simple debate on these topics. In that sense, he announced the launch of several projects.
Ambassador Thimonier congratulated Prime Minister Krivokapić on election of the new Prosecutorial Council and parliamentary support for the "Europe Now!" programme and praised the establishment of the Coordination Body for monitoring the programme, emphasising that important aspects of the French presidency will be committed to environmental protection, and the fight against corruption and organised crime.
Prime Minister Krivokapić stressed the importance of the new seizure of narcotics in Montenegro, emphasising the obligation of the Prosecutor's Office to act responsibly when it comes to this case.
PM Krivokapić also said that he was encouraged by the efficiency of the work of the Parliament and that he hoped that it would continue in the same manner in 2022. The Prime Minister also emphasised Montenegro's sincere openness to and interest in French investments.