PM Krivokapić attends a working breakfast with GAC

...
PM Krivokapić attends a working breakfast with GAC ministers in Brussels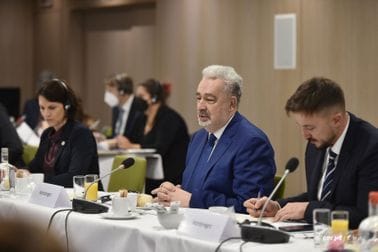 Ahead of the regular session of the General Affairs Council (GAC), Prime Minister Zdravko Krivokapić participated in an informal working breakfast with the EU Ministers of European/Foreign Affairs.
The breakfast was organised by Minister for the EU and Constitution of Austria Karoline Edtstadler. The meeting was an opportunity to acquaint the EU ministers, who are in charge of enlargement, with the intensive activities that Montenegro is undertaking on its European path.
The Prime Minister informed his interlocutors about the current situation in Montenegro, especially in the context of European integration, which is the main strategic and foreign policy priority of the new Government.
As a reliable NATO member, we want to use our position in the Alliance for a stronger political dialogue at the EU level. The Government is determined to make all capacities available for the fulfillment of the goal, i.e. full membership in the EU. The accession process is for us a period of work on internal reforms and strengthening of our institutions. Despite the fact that the negotiations have lasted for 9 years, due to the lack of political will of our predecessors to speed up the process, we in Montenegro have a very high level of citizen support for European integration, and it increased by over 10% after the election of the new Government, said the Prime Minister.
Furthermore, he presented the activities on fulfilling the provisional benchmarks for Chapter 23 and Chapter 24. During the meeting he received support from the participants, the EU Ministers of European/Foreign Affairs, for the economic reform programme "Europe Now" and the investment programme "Montenegro Now".
The ministers praised the Government's efforts to fight corruption and organised crime and reiterated their full support for Montenegro's EU integration. Montenegro's approach to good neighbourly relations and full foreign policy compliance with EU foreign and security policy was also positively assessed.
The meeting noted that the future of the Western Balkans is in the European Union, and that the candidate countries, as well as the member states, must give their contribution to preserving the values of a united Europe and further strengthening of the European Union.