PM Krivokapić spoke with Chancellor Merkel in Tira

...
PM Krivokapić spoke with Chancellor Merkel in Tirana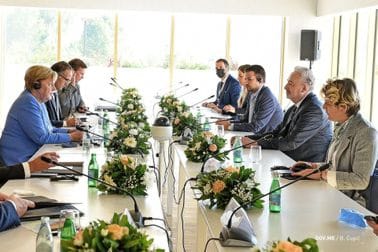 Prime Minister Zdravko Krivokapić met today with German Chancellor Angela Merkel in Tirana.
Prime Minister Krivokapić expressed gratitude for the unquestionable support Germany provided to Montenegro on its European path and its ongoing reform processes.
The Prime Minister said that, having in mind the overall epidemiological situation in the region, Europe and beyond, he was satisfied with the results achieved during the summer tourist season, which correspond to all economic projections of the Government and its reform agenda, in terms of sustainability of public finances.
These nine months of Government's work prove our unreserved commitment to the values of the European Union and the Alliance. We proved that during the last challenge, that is, the enthronement of the religious leader of the largest Christian community in the country, when, despite intense obstruction by the President of Montenegro, we managed to secure the rights guaranteed by the Constitution to our citizens.
The Prime Minister emphasised that the key factor of Montenegro's accession process to the European Union remains the rule of law and that Montenegro will continue to be fully committed to reform activities and meeting the provisional benchmarks in Chapters 23 and 24. PM Krivokapić thanked the German Chancellor for everything that Germany has done for the Western Balkans, especially through the seven-year initiative of the Berlin Process, which is complementary to the accession negotiations and which has contributed to the progress and rapprochement of the countries of the region. The Prime Minister pointed out that the Berlin Process has an irreplaceable role in strengthening regional cooperation and connecting the countries of the region with the EU on their path to EU integration.
The primary geostrategic goal of our country is to become the next EU member state, while we want that our participation in regional multilateral organisations contributes to achieving that goal, and not to be a replacement or alternative to the EU. Moreover, we want to identify as many mechanisms as possible with the European Commission in order to get involved in early integration, which is possible and realistic even before full EU membership, Krivokapić said.
Chancellor Merkel expressed satisfaction that she had the opportunity to meet Prime Minister Krivokapić. She offered full support to the Government of Montenegro on its European path, wishing a lot of strength and happiness in that process.