PM Krivokapić meets with Merkel and Western Balkan

...
PM Krivokapić meets with Merkel and Western Balkan leaders in Tirana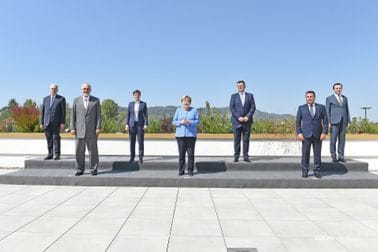 Prime Minister Zdravko Krivokapić participated in a working lunch with German Chancellor Angela Merkel and the leaders of the Western Balkan countries. The main topic of the working lunch was regional cooperation and mechanisms for its improvement. On that occasion, Chancellor Merkel especially pointed out that Montenegro is a leader in the EU integration process, emphasising the importance of the idea of a common regional economic market, which, according to her, can benefit all Western Balkan countries.

Prime Minister Krivokapić thanked Chancellor Merkel for recognising Montenegro as a leader in the integration process, as well as for recognising the reform and European path of the new government.
Furthermore, the working lunch emphasised the need to continue working within the Berlin Process in the coming years, as one of the most important diplomatic initiatives since 2014, whose goal is the enlargement of the European Union.

In that sense, the meeting expressed an aspiration that all Western Balkan countries work diligently on the internal reform processes, so that the process of EU integration would run faster and more intensively.