PMQs - PM Krivokapić: Government plans to meet EU

...
PMQs - PM Krivokapić: Government plans to meet EU obligations by 2024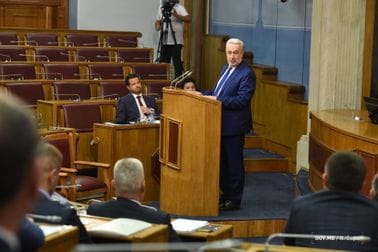 Prime Minister Zdravko Krivokapić said that the Government is pro-European, unlike the previous one, which, as he says, was pro-Chinese.
This Government plans to meet EU obligations by 2024. We have defined it as a goal and we strive for that goal. In order to achieve that goal, we had to define a road map, which was presented to all ambassadors who had only words of praise. Out of 33 chapters, which are all open, we are the country that has been negotiating with the European Union for the longest time. And that is why we want to shorten that process. Only two chapters, Chapters 23 and 24, do not have measurable characteristics, and in order to know whether we achieve that result or not, we have developed our methodology, which is of such a nature that it treats each part of the benchmark with a clearly defined goal, an assessment of the achievement of that goal, what should be done, who should do it. In this way, we want to monitor this process as much as possible, said the Prime Minister at the Prime Minister's Questions, answering the question of Miloš Konatar from the MP Group "In Black and White".
The Prime Minister said that at the Intergovernmental Conference held in Luxembourg at the end of June, they were assured that this approach was good and that this year, most likely during the Slovenian presidency, would enable us to turn the provisional benchmarks from Chapters 23 and 24 into final benchmarks.
It would be a big step forward that would help in solving the main problem, and that is the rule of law and the fight against organised crime and corruption. You know very well that both I and the Deputy Prime Minister and the entire Cabinet are most concerned about these chapters. We hope that we will complete this key task by the end of the year, i.e. by the end of Slovenia's presidency, after which everything will be easier. We already have at least seven chapters completely closed and ready to prove that we have fulfilled our obligations. The new methodology has six specific chapters and a key chapter on fundamental law. But there is also the economy, and if we achieve that, then it will not be a problem to become the 28th member of the EU. What is also particularly important, I know that your party belongs to the group of green parties, is that you are also interested in Chapter 27. In Chapter 27, we have made several strides, we have declared a part of the sea a protected zone, we are worried about how four critical points in Montenegro will be solved very quickly and brought to an environmentally acceptable measure, said Prime Minister Krivokapić.
I am worried about the fact that no one is trying to solve the biggest environmental problem in Podgorica. There were three investors who offered a way to solve the problem. They were rejected. Why, don't ask me, he added.