PMQs - PM Krivokapić: Montenegro is a top tourist

...
PMQs - PM Krivokapić: Montenegro is a top tourist destination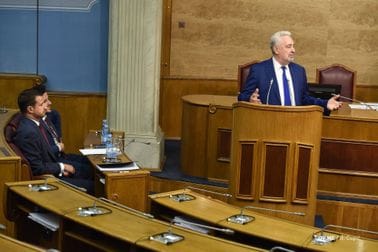 Prime Minister Zdravko Krivokapić said that an anti-tourism campaign is being conducted against Montenegro and that this is being done both inside and outside the country.
The most important fact is that Montenegro is a top tourist destination in Europe. The facts speak for themselves. You know that we projected the budget at 65 percent, the IMF projection was at 70 percent in 2019. We surpassed those expectations. In the first half of this year, we achieved the same result as in the whole of 2020. Compared to 2019, that is 84 percent. The numbers will be published tomorrow and I think they are even bigger. Also, this result is ten times higher than in the same period in 2020, said Prime Minister Krivokapić at the Prime Minister's Questions, answering the question of Boris Bogdanović from the MP Group "Democrats - Demos - Peace is Our Nation".
The Prime Minister pointed out that this is a campaign clearly aimed at showing that this Government is incompetent. PM Krivokapić pointed to the fact that 87 percent of guests are in hotel accommodation compared to 2019, and 77 percent in private accomodation.
The fact is that in all municipalities, even in the north, the number of tourists is a surprise for everyone who works in tourist organisations. Everyone expected much lower numbers. But the numbers are unquestionable, he said.