PMQs - PM Krivokapić: This Government enjoys 100%

...
PMQs - PM Krivokapić: This Government enjoys 100% support of the international community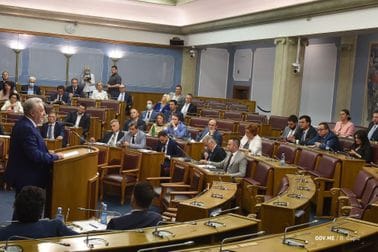 Prime Minister Zdravko Krivokapić said at the Prime Minister's Questions, answering the question of Raško Konjević from the MP Group of the Social Democratic Party – Albanian coalition "Unanimously", that he agreed with the facts he stated, which are related to the economic situation of every citizen.
But you know the reason. There are three elements that no one in this country has thought about so far. Firstly, when you have a drop in the price of fuel, no drop in the price of fuel was reflected in a drop in the price of any food. The opposite happens: when the price of fuel rises, so do the prices of foodstuffs. It is an incredible paradox and only serves large retail chains. There are three key retail chains in Montenegro, which literally dictate everything and which can be "defeated" only by a foreign party, an international entity that will try to define a decent margin with its prices, the Prime Minister said.
This Government has 100% support from the international community to make a reform path and a step forward for Montenegro to become the next EU member.
The Government should be represented by young, competent people who know the language, who will improve international cooperation, who will contribute to Montenegro being internationally recognisable, and not by those who have enjoyed benefits and got jobs. We need to change that together. It is our joint obligation and we have to join forces, if you want Montenegro to win. I feel that you need it and we are ready to start a joint fight for the right people to be appointed to the right posts, especially in the judiciary, where there are many honorable and honest people who didn't have the opportunity to prove themselves, he said.