The 36th Cabinet session – 12 January 2023
The 36th Cabinet session – 12 January 2023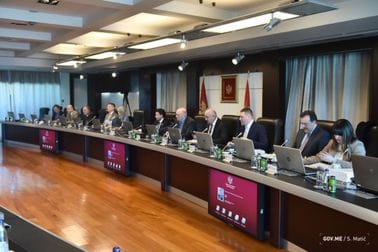 The Montenegrin Cabinet, at today's 36th session chaired by Prime Minister Dritan Abazović, adopted the Decree on Amendments to the Decree on the Visa Regime. Montenegro is fully focused on and committed to European integration as its key foreign policy priority and, in accordance with this commitment, amendments to the Decree ensure the harmonisation of the visa policy of Montenegro with the EU, as well as the harmonisation of domestic legislation and practice with EU standards.
The Republic of Cuba has been deleted from the list of countries whose citizens can enter, pass through the territory of and stay in Montenegro for up to 90 days, with a valid travel document issued by the competent authorities of those countries, without a visa. In this way, Montenegro responsibly fulfills its obligations in the EU accession process. The article that allowed foreign citizens with a residence permit in the United Arab Emirates to enter Montenegro without a visa and stay in it for up to 10 days was also deleted, in order to harmonise domestic legislation with EU acquis. Also, after the exit of the United Kingdom of Great Britain and Northern Ireland from the European Union, there was a need to amend Article 10 and extend it to holders of valid travel documents of that country, issued on the basis of the Convention relating to the Status of Refugees of 1951 or the Convention relating to the Status of Stateless Persons of 1954, as well as special travel documents for foreigners, so that they can enter, pass through the territory of and stay in Montenegro for up to 30 days, without a visa.
The Cabinet adopted the Decision on the implementation of international restrictive measures adopted by the Council of the European Union 2019/1894/CFSP of 11 November 2019, 2020/275/CFSP of 27 February 2020, 2020/1657/CFSP of 6 November 2020, 2021/1966/CFSP of 11 November 2021 and 2022/2186/CFSP of 8 November 2022 in view of Turkey's unauthorised drilling activities in the Eastern Mediterranean.
The Surface and Groundwater Monitoring Programme for 2023 was adopted.
The Cabinet adopted the Information on the prepared Study on the need to create a strategic reserve in Montenegro. The Cabinet also adopted a proposal for the preparation of two additional studies that will elaborate the functioning system of the Agency for Strategic Reserves of Montenegro.
The Forest Management Programme for 2023 was adopted.
State Secretary at the Ministry of European Affairs Milena Žižić presented key results in the area of the EU support programme for Montenegro during 2022. She stressed that over 120 million euros of EU funding will be available through various national, regional, cross-border and transnational programmes.
Full press release in Montenegrin is available here.