The 54th Cabinet session – 13 January 2022
The 54th Cabinet session – 13 January 2022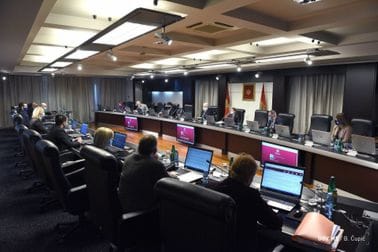 The Montenegrin Cabinet, at its 54th session held on 13 January 2022, chaired by Prime Minister Zdravko Krivokapić, adopted the Decision on establishing the Coordination Body for monitoring the "Europe Now" programme. The President of the Coordination Body will be Minister of Economic Development Jakov Milatović, while the Deputy President will be Adviser to the Prime Minister Dejan Abazović.
The Draft Amendments to the Detailed Urban Plan "Topolica III", Municipality of Bar, with the Programme of Public Debate, lasting 15 working days was also adopted.
The Cabinet adopted the Information on the signing of Amendment 2 to the contract for the implementation of the project of construction and reconstruction of the section of the road Lubnica - Jezerine.
The Information on the need to form an independent expert team to review the preparation and implementation of capital infrastructure projects was also adopted. The Information states that the value and complexity of capital infrastructure projects impose the necessity of well-conducted comprehensive preparatory activities for their implementation, but also the necessity of high-quality monitoring of implementation, with maximum respect for expert opinions and recommendations. It was concluded that these reasons impose the need to form a multidisciplinary team composed of experts in certain fields, which would conduct an independent expert audit of capital infrastructure projects in Montenegro and define a set of recommendations to avoid and/or reduce the possibility of certain risks in the future implementation of other capital infrastructure projects of similar type, importance and complexity, in accordance with good international practice and in order to best protect the interests of Investor (Government of Montenegro).